$282.00
Deep bass
Enhance the drama of a tense thriller, feel the roar of your team or sit back with your latest album. The JBL Bar 2.0 All-in-One really is all-in-one, with deep bass for your movies and music.
Surround yourself with sound
JBL Surround Sound instantly brings movies, sports and music to life. Upgrade to an immersive sound experience for your TV without any extra wires or speakers.
Visit the movies, from your sofa
Get the popcorn ready. Built-in Dolby Digital gives you an authentic cinematic experience right in your home.
Powerful sound. Compact design.
Immerse yourself in your favourite film, feel the energy of the crowd at the big game or rock out in your living room. With the compact, powerful and easy-to-use JBL Bar 2.0 All-in-One soundbar, JBL pro sound is just a single HDMI ARC or optical cable connection away. Built-in Bluetooth means you can easily stream music from your smartphone or tablet. Dolby Digital, JBL Surround Sound and a smart sound mode delivers incredible sound every time, whatever you want to watch or listen to. Plug-in, turn on and surround yourself with JBL signature sound.
General Specifications
Power supply 100 – 240V AC, ~ 50/60Hz
Total speaker power output (Max. @THD 1%) 80W
Soundbar output power (Max. @THD 1%) 2 x 40 W
Soundbar transducer 2 x racetrack drivers
Soundbar standby power Operating temperature 0°C – 45°C
Audio Specifications
Frequency response 70Hz – 20KHz
Audio inputs 1 Optical, Bluetooth, USB (USB is for Service only.)
Dimensions
Soundbar dimensions (W x H x D) 614 x 58 x 90 (mm) / 24.17" x 2.28" x 3.54"
Soundbar weight 1.61 kg
Packaging dimensions (W x H x D) 855 x125 x 145mm
Packaging weight (Gross weight) 2.6kg
Control and Connection Specifications
USB port Type A
USB rating 5V DC / 0.5A
Supporting file format mp3, wav
MP3 Codec MPEG 1 Layer 2/3, MPEG 2 Layer 3, MPEG 2.5 Layer 3
MP3 sampling rate 16KHz – 48 KHz
MP3 bitrate 80kbps – 320kbps
WAV sample rate 16KHz – 48 KHz
WAV bitrate Up to 3000kbps
Bluetooth version 4.2
Bluetooth profile A2DP V1.3, AVRCP V1.5
Bluetooth frequency range 2402MHz – 2480MHz
Bluetooth Max. transmitting power Modulation Type GFSK, ?/4 DQPSK, 8DPSK
Video Specifications
HDMI Video output (With Audio return channel) 1
What's in the box
1 x JBL Bar 2.0 All-in-One Soundbar
1 x Remote control
Description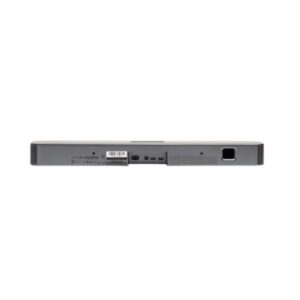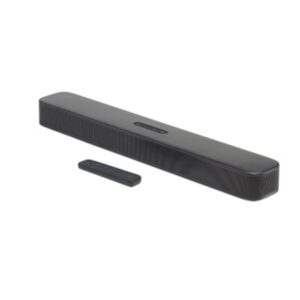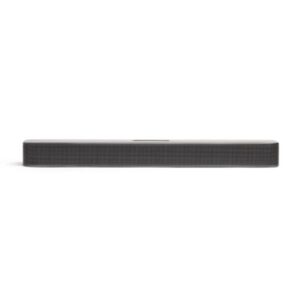 You may also like…
$

235.00

Specifications:

- Compatible devices: TV; Android Phone; iPhone; etc.

- Bluetooth Version:5.0

- BT operating Range: up to 10m

- File Formats: MP3;WMA;etc

- Selectable EQ: Music; Movie; News; 3D

- Total Audio Power Max Output: 360W

- Wireless Subwoofer: Yes

Warranty:

- 1 Year Manufactures warranty

Terminals:

- USB Input: 1

- Aux Input:1

- Optical Input:1

- HDMI ARC Input:1

Power Specifications:

- Power Supply: AC100-240V, 50/60Hz

- Power Consumption: 96W (Bar) + 96W (Woofer)

Speaker Specifications:

- Driver Unit: 2.75" x 4SB + 6.5"SW

- Input Impedance: 4 ohm x 4 + 3 ohm

- Frequency Response: 45Hz - 20Khz

- Signal-to-noise Ratio:72db

- Input Sensitivity: SB: 800mV +-50mV

SW: 400mV +-50mV

Dimensions & Weight:

- Soundbar Dimension (mm): 960(L) x 76 (H) x 78 (W)

- Subwoofer Dimension(mm): 380 (L) x 170 (H) x 306(D)

- Box Dimensions (mm): 1033 x 451 x 230 (mm)

- Weight (Gross) (Kg): 7.65

- Weight (Net) (Kg) : 6.5

Accessories:

- Aux Cable

- Remote Control

What's in the box

Aux Cable

- Remote Control (Yes)

Add to cart

$

1,500.00

Feel like you're right in the scene with 3D surround sound

The JBL Bar 9.1 soundbar brings audio experience of a movie theater into your home with two detachable surround speakers and the added punch of Dolby Atmos® and DTS:X™ 3D sound. With 820 watts of total system power, you can enjoy every Oscar-worthy performance through powerful, crystal-clear audio. Turn up the 10'' subwoofer for pulse-pounding bass or turn it down and relax with Chromecast and AirPlay music streaming. Immerse yourself in the latest blockbuster or re-live your favorite movie or sport scenes. The most incredible home cinema sound experience is here.

The Ultimate 3D sound experience

Upgrade your viewing or gaming experience from ordinary to extraordinary. Built-in Dolby Atmos®, DTS:X™ and four upfiring speakers bounce sound up to the ceiling back down to you for an awesome, true 3D sound experience.

Real surround sound in a second

Instantly enjoy a true, cinematic 9.1 surround experience. Simply place the two detachable surround speakers behind you. No extra wires, no extra power connections so no extra hassle.

Detachable speakers that go anywhere

Built-in batteries mean audio freedom. Place the two detachable surround speakers anywhere in your room to enjoy an incredible audio experience. After 10 hours of playback, simply dock them to the soundbar to recharge

General Specifications

5.1.4 channel

Power supply 100 - 240VAC, ~ 50/60Hz

Battery charge time 3 hours

Total speaker power output (Max. @THD 1%) 820 W

Main Soundbar output power (Max. @THD 1%) 400

Surround speakers output power (Max. @THD 1%); 2 x 60W

Subwoofer output power (Max. @THD 1%); 300

Soundbar transducer

4×racetrack drivers +2 × up-firing full-range drivers+3 × 0.75" (20mm) tweeter

Surround transducer (per piece) up-firingfull-range driver + 0.75" (20mm) tweeter

Subwoofer transducer 10"

Operating temperature 0°C - 45°C

Standby for Soundbar (when all wireless connections are deactivated)< 0.5 W

Networked standby (Soundbar)< 6.0 W

Networked standby (Subwoofer)< 2.0 W

Time to standby

Audio Specifications

HDMI In

1HDMI eARC

1HDMI HDCP version 2.3

103dB

34Hz~20KHz

1 Optical, Bluetooth, Chromecast, AirPlay2, USB Yes

Dimensions

Soundbar dimensions (WxHxD)

884 x 62 x 120 (mm)/ 34.8" x 2.4" x 4.7" Yes

Detachable surround speaker, per piece 173 x 60 x 120 (mm) / 6.8" x 2.4" x 4.7"

Subwoofer dimensions (WxHxD) 305 x 440 x 305(mm) / 12.0" x 17.3" x 12.0" Yes

Soundbar weight 3.64 kg/ 8.0 lb

Detachable surround speaker 0.72 kg x 2/ 1.6 lb x2

Subwoofer weight 11.10 kg / 24.5 lb

Control and Connection Specifications

USB port Type A

USB rating 5 V/ 500 mA

Supported file format

MP3 MP3 codec MPEG 1 Layer 2/3, MPEG 2Layer 3, MPEG 2.5 Layer 3

MP3 sampling rate; 16 KHz - 48 KHz Yes

MP3 bitrate 80 kbps - 320 kbps

USB Port; (USB playback is available in US version. For other versions, USB is for Service only.)

Bluetooth version 4.2

Bluetooth profile A2DP V1.2/ AVRCP V1.5

Bluetooth frequency range; 2402MHz-2480MHz Y

Bluetooth Max. transmitting power 13dbm (EIRP)

Modulation Type

GFSK, ?/4 DQPSK, 8DPSK

Wi-Fi network

IEEE 802.11 a/b/g/n/ac (2.4GHz/5GHz)

2.4G Wi-Fi frequency range

2412 – 2472 MHz (2.4GHz ISM Band, USA 11 Channels, Europe and others 13 Channels)

2.4G Wi-Fi Max. transmitting power 20 dBm (EIRP)

Modulation Type

DBPSK, DQPSK, CCK,QPSK, BPSK, 16QAM, 64QAM

5G Wi-Fi frequency range

5.15 - 5.35 GHz, 5.470-5.725 GHz,5.725 - 5.825 GHz

5G Wi-Fi Max. transmitting power

22 dBm (EIRP)

Modulation Type

QPSK, BPSK, 16QAM, 64QAM, 256QAM

5G Wireless frequency range

5180.0 - 5240.0MHz (Except Europe), 5725.0 - 5825.0MHz

5G Max. transmitting power

13 dBm (EIRP)

Modulation Type

QPSK

What's in the box

1x Soundbar

1x Wireless subwoofer

Remote control with batteries

Power cords (up to 8pcs depending on region SKUs)

HDMI cable

Wall-mount bracket kit with screws

Quick start guide

Warranty card

Safety sheet

Add to cart

$

148.00

Upgrade your home theatre experience with the Turbulent Series from Volkano. Sound comes alive with 70W RMS Power Output. The 3D Sound Mode delivers an immersive audio experience. Three EQ Modes are specifically designed to enhance Music, Movies, and Vocals. Enjoy clear mid and high frequencies from the soundbar while the subwoofer delivers those rumbling lows. Connect via Bluetooth Wireless and play your tunes from your mobile devices. Connect your music via USB Drive, Aux Input or listen to your favorite FM channel via the built-in FM Radio. Connect to your TV with HDMI (ARC) Inputs and Optical Inputs.

Features:

- Powerful Crystal Clear Audio

- USB, HDMI and Aux Inputs

- Bluetooth Wireless

- Optical Input (1.5 m Cable Included)

- Song Shuffle & Repeat

- EQ Modes: Music, Movie and Vocal Modes

- 3D Sound Mode

Specifications:

Bluetooth

Version: 5.0

Range: 10 m

Soundbar

Size: 900 x 60 x 60 mm

Frequency Response: 150 Hz - 18 kHz

Power Output: 2 x 15 W = 30 W RMS

Drivers: 2 x 2"

Subwoofer

Size: 220 x 193 x 270 mm

Frequency Response: 55 Hz - 4 kHz

Power Output: 40 W RMS

Driver: 5.25"

Power Supply: 19 V DC, 3.5 A

Size for USB: Up to 64 GB

Total Power Output: 30 W + 40 W = 70 W RMS

Signal to Noise Ratio: 80 dB

Sensitivity: 85 dB

What's in the box

1 x Volkano Turbulent Series 70 W 2.1 Soundbar

1 x Subwoofer

1 x Optical Cable (1.5 m)

1 x Aux Cable

1 x Power Adapter

Add to cart