$219.00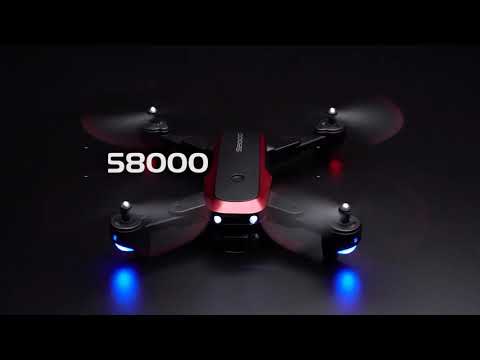 New S8000 RC Professional Drone 4K Dual Camera 360° Rollover Trajectory Flight WIFI 20mins Optical
New S8000 RC Professional Drone 4K Dual Camera 360° Rollover Trajectory Flight WIFI 20mins Optical Flow Positioning QuadcopterProduct number: S8000 Optical f...
Consider a different way of entertainment rather than watching tv or parties! Weighing as many as 2 large eggs and fitting in the palm of your hand, our mini drone is ultra-portable as your hiking/fishing/travelling companion, snapping your precious moments!
Features:
4K dual camera (90 adjustable)
ESC 900 remote control lens with high-definition lens
Real-time image transmission
120 ultra-wide-angle shooting range
Record every wonderful moment
Featured function Optical flow positioning + ESC camera
1080P FHD Image Real-time Transmission
1080P FHD video drone with camera captures high-quality footage, which you can save to your phone and share the instant joy with your friends and family in real-time.
3 Speed Modes
Select between low/medium/high speed. It is user-friendly for kids, teenagers, adults, beginners and experts. Choose one that's best suited to you.
Gesture Photography
The drone s camera will identify your gesture and react accordingly. Paper means taking photos; Rock means recording videos.
New Tricks On The Move
To add fun to the flight, our remote-control quadcopter drone features a 3D roll and flip. Tap the 360 button, then push the right joystick left/right/up/down (to set the flip direction).
Extra Protection
When the drone hits walls or people, the protective frames (4 propeller guards are provided in the package) can protect people and the drone propellers, which is a bonus during flight.
One-key take-off/ one-key landing/up/down/left/right turn/360 roll/headless mode/fast/slow gear/photograph/video/switch dual camera/face recognition automatic photo/gravity sensor/trajectory flight.
Important to note
1. Before using the drone, especially beginners, please read the instructions and APP installation guide included in the package to prevent incorrect operation.
2. The initial default mode when powered on is Camera Mode. The direction of front camera and the remote control must be the same, that is, the same direction as your eyes.
3. If the drone begins to fall while attempting to control it using the remote, it means that your drone battery is low and needs to be charged or replaced with a spare battery.
4. Please do not use the drone near tall buildings, lush bushes, large crowds, etc. We recommend an open environment where the drone's functions can be best utilised.
5. Please minimize the use of this drone in rainy and windy.
6. For your safety and the safety of others, please install the propeller guard of the drone before using it.
Specifications
Indoor/Outdoor Use Both Indoor and Outdoor
Control Type Remote Control
State of Assembly Ready-to-Go
Origin China
Aerial Photography Yes
Power Source Rechargeable battery
Type Quadcopter
Motor Brushless Motor
Control Channels 4 Channels
Model Number S8000
Recommend Ages 4-6y, 7-12y, 12+, 18+
Material Metal Plastic
Operator Skill Level Beginner, Intermediate
Camera Mount Type Other
Camera 4k dual camera
Colour Black with red detail
Weight 176g
R/C Distance 300 meters
Charging time 90 minutes
Battery 20 minutes
Flying time 18 minutes
Product dimensions 33 x 33 x 6.5cm
Package dimensions 18 x 14 x 6.5cm
DISCLAIMER: This remotely piloted aircraft is sold on the basis that it will be used for private use only and not for commercial use. Commercial use of a remotely piloted aircraft is subject to registration with the South African Civil Aviation Authority. The operator of this aircraft must at all times observe statutory requirements relating to use, liability, privacy and other applicable law. For more information regarding the use of remotely piloted aircraft systems please visit the South African Civil Aviation Authority website: http://www.caa.co.za/
What's in the box
1 x 4K HD Camera Drone
1 x Remote Controller
1 x Modular Battery
2 x Spare Propellers
4 x Propeller Guards
1 x High Quality Carrying Case
1 x Screwdriver
1 x USB Cable (Adapter not included)
1 x Drone User Manual
1 x APP Operating Guide
Description